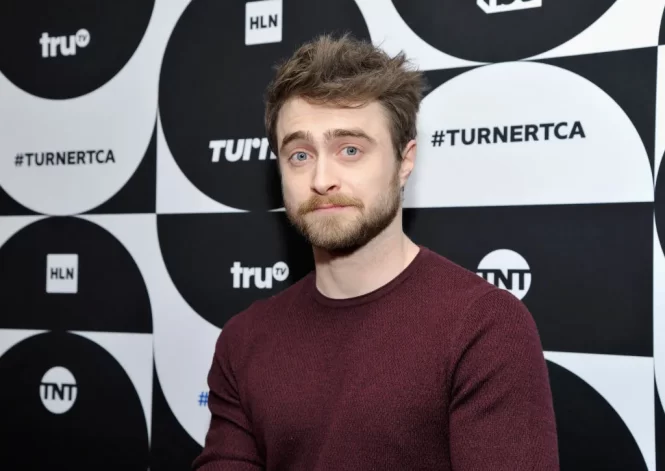 Do you know what Daniel Radcliffe net worth is? A $110 million (as per the 2022 inflation-inclusive report). Quite much for a muggle-born, isn't it? That's not all! He first became a millionaire at the age of 12! 'Expecto Patronum?' – not really!! Yes, we are talking of every muggle woman's dream man – Harry Potter, the hero who made it big – fought the evil noseless Voldemort and made us believe – you need grit and determination to fight evil. Good always triumphs over evil!! He did have Ron and Hermione and the whole of Dumbledore's army as a backup, but here we will go solo. Let's start this personal Gringott's tour of Voldemort's biggest antagonist –
What is Daniel Radcliffe net worth?
Compiled from multiple financial magazines and press releases, one may state that – the 'Harry Potter' star's current net worth stands at $110 million. The primary source of his income is his career as an actor and producer. Also, he has made some sound financial investments, the dividends of which add to his income.
He was one of the youngest self-made millionaires in the world – touching that magic figure at the tender age of 12. From there – he has had an upswing in his career, earning global fame and reckon all along this way. His recent outing – 'The Lost City,' co-starring – Channing Tatum and Sandra Bullock, has managed to rake in the moolah at the Box Office.
That was just a piece of preliminary information about Daniel Radcliffe net worth. But how did the magic start? We will get to that –
How was Harry's early life?
Coming from a Jewish – Irish origin, Daniel is the sole offspring of literary agent – Alan George Radcliffe and casting agent Marcia Jeannine Gresham. Though Radcliffe knew he wanted to be an actor by age 5, his parents were more interested in him completing his formal education.
However – his dreams got wings quite early, and at the age of 9, he was cast in BBC One's 2-part television series on Dicken's David Copperfield. Therefore – unlike what many know about him, his debut happened with BBC much earlier than the Harry Potter franchise. Moreover – his debut performance was overseen by none other than the famous Maggie Smith.
In fact, the story goes – when Radcliffe was cast in the role of Harry Potter, apparently the first two films of this franchise were to be shot in Los Angeles, almost making Radcliffe give up the part. His parents did not want him to miss school years. Later, the production house changed the locale, and it was shot in the UK.
So, how was this journey? What did it look like on a personal front? We will get to that –
How did his journey start?
This accumulation of what we today know about Daniel Radcliffe net worth started with the Harry Potter films. In 2000, Radcliffe auditioned for the titular role in Harry Potter and the Philosopher's Stone (in the US, it was released with the title – Harry Potter and the Sorcerer's Stone). But this path was not easy!!
In the words of casting director Janet Hershenson – she categorically wanted a boy with "blue-green or green eyes."(The Huffington Post). Despite everything else in his favor, Radcliffe was rejected for his "brown eyes."
However, director Chris Columbus had his eyes on Radcliffe and realized that, unlike any other kid, "he had both – a vulnerable and a powerful side'' which completely mirrors the character of Harry. Thus, the spectacular journey started with – 'Wingardium Leviosa' for the company.
After his debut film was a massive success, Radcliffe never looked back. He had reached the pinnacle of international success and fame – cementing his presence in every heart.
What was the Harry Potter phase like?
But as they say – there's not just one story behind the success. There are buckets of tears behind this humongous Daniel Radcliffe net worth. He was bullied in school. In his words – more than jealousy, students were looking to have "a crack at the kid who played Harry Potter."
From what is known about his academic career – he supposedly attended two private schools – City of London School and Sussex House School. The enigma surrounding this film was surreal; with every following film, the series became more prominent than ever!!
What are his income sources?
With all the hullabaloo over Daniel Radcliffe net worth – it is time to get straight to the numbers. His annual income from multiple sources amounts to $15 million.
Let's check out the paychecks for her Harry Potter films –
Harry Potter and the Philosopher's Stone – $1 million
Harry Potter and the Chamber of Secrets – $3 million
Harry Potter and the Prisoner of Azkaban – $6 million
Harry Potter and the Goblet of Fire – $11 million
Harry Potter and the Order of Phoneix – $14 million
Harry Potter and the Half-Blood Prince – $24 million
Harry Potter and the Deathly Hallows – $50 million
Last noted – the Harry Potter films grossed $7.7 billion worldwide. Reportedly – he earned a whopping $95 million from the Harry Potter franchise and still earns royalties on its merchandise and television re-runs.
The fees from his other acting projects include the following – December Boys (remuneration – $1.17 million), The Woman in Black (which grossed a worldwide amount of $130 million), and others. Though his current remuneration has not been disclosed by the production houses – he has had a spate of good films in his kitty, such as – Escape From Pretoria, Kill Your Darlings, Imperium, Jungle, My Boy Jack, Horns, What If, and The F Word to name a few!
Another boost to Daniel Radcliffe net worth was when he debuted on Broadway with the controversial Equss and followed up his marvelous performances with – The Cripple of Inishmann and How to Succeed in Buisness Without Really Trying. 
How does he invest his money?
When you have a fortune worth something such as Daniel Radcliffe net worth, managing it accurately is very important. It has been revealed from multiple sources that he has shares in the company his parents founded for his financial management. In extension, it has also been found – he owns three homes, between which he divides his time and a set of cars.
From what has been known – he owns 3 houses in the US. The first one is at NYC's West Village in Lower Manhattan, which is worthed at $9.6 million. His other residences in the US are – a 5th-floor NYC apartment tagged at $4.3 million and an 11th-floor condo in SoHo. He also owns a flat in London, details of which are unavailable.
He has a wide range of car collections, which includes – Porsche, Aston Martin, Bentley, and BMW.
His parents created the Gilmore Jacobs Ltd. company, which manages his financial assets.
By 2009 – he was the richest teenager in Britain, worth $49.19 million.
What are his views on the Rowling controversy?
Recently, J K Rowling was under the scanner for her disparaging comments on the transgender community. However, Daniel Radcliffe stood for the community and stated, "Transgender women are women." He has been associated with the Trevor Project, a nonprofit organization, for a decade now – financially and otherwise.
As a brand ambassador and associate of the Trevor Project, he has worked for gay, bisexual, lesbian, queer, and other communities, along with suicide prevention and drug addiction issues.
Do you know?
He was born on July 23rd, 1989.
His weird purchases include – a $17,000 mattress and a Kaleidoscope Painting worth $2 million.
His series of awards include – Best Male Performance at the National Movie Awards (2008) for Order of the Phoneix, Scream Awards for Best Fantasy Actor (2011), MTV Movie Awards Best Hero (2012), Glamour Awards Man of the Year (2013).
He has minor dyspraxia – a motor skill disorder that makes one lose coordination.
At 16 years of age – he was the youngest non-royal to have his portrait hung at the National Portrait Gallery.
In 2006 – Daniel Radcliffe, along with his co-stars – Rupert Grint and Emma Watson, were invited to leave the imprints of their hands, feet, and wand outside the Grauman's Chinese Theatre in Hollywood.
He has been dating American actress Erin Darke since 2012 for over a decade.
He wrote numerous poems for an underground fashion magazine called Rubbish – under the pen name of Jacob Gershon (a blend of his Irish and Jewish legacy).
Daniel Radcliffe net worth has increased by 45% since the last Harry Potter film and his current film.
What does the future look like?
In one word – quite fascinating, and albeit some more numbers behind the already magical Daniel Radcliffe net worth! Radcliffe has always been very choosy about his projects and maintained his status as one of the most bankable British stars, with the likes of Rowan Atkinson and Daniel Craig.
From what has been revealed to the press – he is preparing for his next project – ''Weird: The Al Yankovic Story." It is a biopic that will explore some crucial facets of his life – from his meteoric rise to his spate of torrid affairs.
Wrapping up
As one of the youngest and wealthiest millionaires in the English land, we, as the audience, will not only have a vested interest in Daniel Radcliffe net worth but also his potential as a performer. Here's wishing him more success in the domains of the Muggle world.
If you have any further queries, keep checking this space for updates.